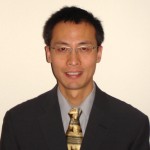 Welcome! I am an associate professor of biology at Truman State University. I teach the following courses:
BIOL 100 (General Biology)
BIOL 145 (Freshman Seminar)
BIOL 200 (Cell Biology)
BIOL 405 (Plant Physiology)
My research interests include gravitational biology (gravitropism, gravity-sensing, and the role of cytoskeleton), plant stress physiology and adaptation to environment, plant mineral nutrition, root biology, and biological modeling. For more information, click on the "Research" tab above. If you are interested in doing research with me, you are welcome to stop by and chat with me about opportunities.
I like to travel to China during the summer to visit family members and friends, and my research collaborators. For images of China, click on the "China images" tab above. If you are interested in doing study abroad in China and would like to know more about China – its history, culture, people, education, etc., I'd be happy to tell you about it. You can email me to make an appointment.